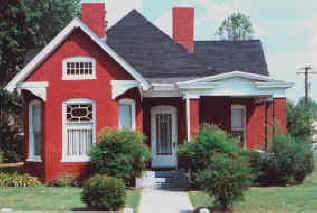 This is the birthplace of Robert Penn Warren. He lived at this house for a very short time. After his leaving this house the house sold several times until being purchased by a group of local residents named The Committee For the Preservation of The Robert Penn Warren Birthplace In Todd County.

The house is open to visitors singly and in groups and contains items involved with Warren's life. For sale are books both by Warren and about Warren.

The house is open for visitation during the hours: Thursday thru Saturday: 11:30AM-3:30PM CST CLOSED SUNDAY THROUGH WEDNESDAY. OTHER HOURS BY SPECIAL ARRANGEMENT.
Click here for a map to the home.
Robert Penn Warren Birthplace Museum
Third and Cherry Streets
122 Cherry St
Guthrie, Kentucky 42234

Mailing address:
P.O. Box 525
Guthrie, Kentucky 42234

Telephone: (270) 483-1004
To assure that a guide is available to take you through the house, please call (270) 604-7760 before your visit
Tours can be given by appointment only.
The Guthrie Heritage Days Festival will take place on Saturday, September 18, 2021. That day we will have the Robert Penn Warren Birthplace museum open from 9:00am until 5:00pm. Also, three members of the Robert Penn Warren Circle are coming to help the RPW Committee with this event. Kyle Taylor, Aimee Berger and Randy Hendricks will come that day and will give a presentation from the porch of the birthplace between 1:00pm and 2:00pm on the friendship between Robert Penn Warren and the famous baseball player (Warren's childhood friend) Kent Greenfield, who is also a native of Guthrie. Aimee will introduce and read part of Warren's poem "American Portrait: Old Style,," which is partly about Kent Greenfield. Randy Hendricks will discuss both men's ties to Guthrie. And Kyle Taylor will conclude with a discussion of Warren's poem "True Love," which also has a Guthrie setting.
---
What Voice at Moth-Hour
What voice at moth-hour did I hear calling
As I stood in the orchard while the white
Petals of apple blossoms were falling,
Whiter than moth-wing in that twilight?
What voice did I hear as I stood by the stream,
Bemused in the murmurous wisdom there uttered
While ripples at stone, in their steely gleam,
Caught last light before it was shuttered?
What voice did I hear as I wandered alone
In a premature night of cedar, beech, oak,
Each foot set soft, then still as stone
Standing to wait while the first owl spoke?
The voice that I heard once at dew-fall, I now
Can hear by a simple trick. If I close
My eyes, in that dusk I again know
The feel of damp grass between bare toes
Can see the last zigzag, sky-skittering, high,
Of a bullbat, and even hear, far off, from
Swamp-cover, the whip-o-will, and as I
Once heard, hear the voice It's late! Come home!
from Rumor Verified Copyright ©1980 by Robert Penn Warren, reprinted by permission of William Morris Agency, on behalf of the author.