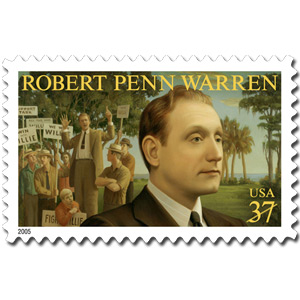 Robert Penn Warren—the first official poet laureate of the United States— was honored by the U.S. Postal Service with a stamp in the Literary Arts stamp series at an 11 a.m. ceremony April 22, 2005 in Warren's hometown of Guthrie, KY.
The ceremony took place at the United States Post Office, at the corner of Park and Cherry, Guthrie, KY and was part of a week-long series of events celebrating the 100th anniversary of Warren's birth. The stamp will be available at the museum and at the Guthrie Post Office, and at Post Offices and Philatelic Centers nationwide.
Joining the celebration were Warren's children, Gabriel Warren and Roseanna Warren , and Guthrie Mayor A. Scott Marshall.
This stamp, 21st in the Literary Arts series, recognizes the achievements of Robert Penn Warren, a three-time recipient of the Pulitzer Prize, the only writer to win the prize in poetry Promises: Poems, 1954-1956 in 1958, and Now and Then: Poems, 1976-1978 in 1979 as well as fiction All the King's Men, 1947.

Artist Will Wilson of San Francisco, CA, based his portrait of Warren on a 1948 photograph obtained from the Center for Robert Penn Warren Studies at Western Kentucky University. The background art recalls scenes from All the King's Men.

Current U.S. stamps, as well as a free comprehensive catalog, are available by toll-free phone order at 1-800-STAMP-24. A selection of stamps and other philatelic items are also available at the online Postal Store at www.usps.com/shop. In addition, beautifully custom-framed prints of original stamp art are available at www.postalartgallery.com.
Technical Details
Issue: Robert Penn Warren
Item Number: 458300
Denomination & Type of Issue: 37-cent commemorative
Format: Pane of 20 (1 design)
Series: Literary Arts
Issue Date & City: April 22, 2005, Guthrie, KY
Designer: Carl T. Herrman, Carlsbad, CA
Illustrator: Will Wilson, San Francisco, CA
Art Director: Carl T. Herrman, Carlsbad, CA
Typographer: Carl T. Herrman, Carlsbad, CA
Engraver: Southern Graphics System
Modeler: Donald Woo
Manufacturing Process: Gravure
Printer: Sennett Security Products (SSP)
Printed at: American Packaging Corporation, Columbus, WI
Press Type: Cerrutti, 950
Stamps per Pane: 20
Print Quantity: 45 million stamps
Paper Type: Phosphor Tagged Overall
Adhesive Type: Pressure-sensitive
Processed at: Unique Binders, Fredericksburg, VA
Colors: Magenta, Yellow, Cyan, Black, PMS 129 (Yellow)
Stamp Orientation: Horizontal
Image Area (w x h): 1.41 x 0.84 in./35.814 x 21.336 mm
Overall Size (w x h): 1.56 x 0.99 in./39.624 x 25.146 mm
Full Pane Size (w x h): 7.25 x 5.94 in./184.15 x 150.87 mm
Plate Size: 120 stamps per revolution
Plate Numbers: "S" followed by five (5) single digits
Marginal Markings: 2004 USPS Price Plate numbers in four corners of pane
Plate position diagram and Biographical text on back of stamp
Barcodes in four corners on back of pane
Catalog Item Number(s): 458361 First-day cover $0.75
458393 Cancellation Keepsake $8.15

There is one philatelic product available for the Robert Penn Warren commemorative stamps:
Cancellation Keepsake $8.15 (Item 458393).


This Cancellation Keepsake (a first-day cover and full pane of stamps) will be available while supplies last and may be ordered online at www.usps.com or by telephone at 1-800-STAMP-24.


HOW TO ORDER FIRST-DAY COVERS


Stamp Fulfillment Services offers first-day covers on new stamp issues and Postal Service stationery items postmarked with the official first-day-of-issue cancellation.


Each item has been assigned an individual catalog number and is offered in the quarterly "USA Philatelic" catalog and at www.usps.com/shop. Customers may request a free catalog by calling 1-800-STAMP-24 or writing to:

INFORMATION FULFILLMENT
DEPT 6270
US POSTAL SERVICE
PO BOX 219014
KANSAS CITY MO 64121-9014


First day covers remain on sale for at least one year after the stamp's issuance.